You may have heard the moving story recently of Amy Krouse Rosenthal, a children's author from the United States who discovered she had ovarian cancer.
Sensing she had precious little time left, she wrote a delightful and poignant article for the New York Times about her husband, in the hope that one day the right person may read it and meet him and fall in love. It's called 'You May Want to Marry My Husband' and it flows with disarming grace from within such a painful context. What a gift to him, and to us, to show how it's possible not to cling for dear life to everything you have, but – through love – to relinquish your grip.
What struck me most, however, was a line that she wrote in her introductory remarks to the article. Before her diagnosis, she tells us, Amy had made plans to travel, plans to work, plans to fill her time with lots of new adventures. Her youngest child was leaving home, and she was to become an empty nester on the very day that she heard she had cancer.
"This," she writes, "is when we entered what I came to think of as Plan 'Be', existing only in the present."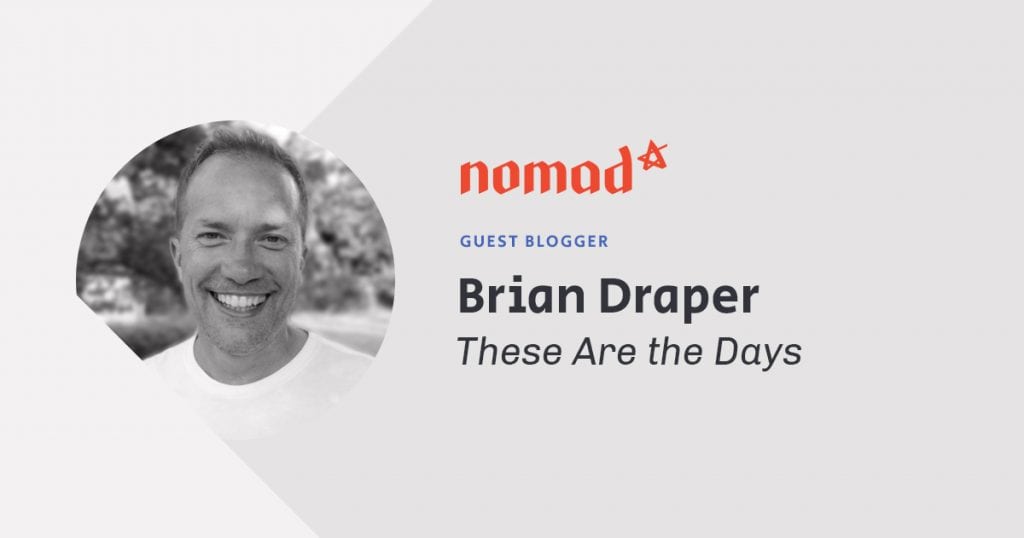 Image provided by Brian Draper. Used with permission.
Plan Be.
Such a simple phrase. Such a hugely challenging proposition.
And it made me realise: so often our own Plan A has very little – if anything – to do with the present at all. Think about it, for a moment. Your Plan A may well be about achieving financial security, or extending the house, or one day ticking off items from a bucket list. But the chances are, even the act of thinking about it will pull you out of this present moment and into some imagined future which may, for all sorts of reasons, never quite materialise.
Now, future goals are both necessary and helpful, of course, and it's unrealistic to live every day as if it's our last. But if all we do is wistfully wish for a time when we have arrived and our plans have been fulfilled, then they'll only serve to make us want to escape our present circumstances, instead of embrace and transform them.
Imagine if you were to make Plan 'Be' your Plan A, just as a short-term experiment – for one day only, perhaps. To bring life forward a little more into the here and now; to be actively intentional about making some space – even if it's just a little – for what matters most.
There's nothing like a diagnosis to focus the mind, of course. A friend of mine discovered she had cancer a year or so back, and it prompted her and her husband, after a mercifully successful course of chemo- and radiotherapy, as well as surgery, to head off around the world for a year with their young family, experiencing new cultures, embracing different possibilities. It wasn't easy, but they were determined to do it, and they made it happen.
We gain a certain clarity and even energy, it seems, when we come face to face with our mortality; perhaps better able to discern what really matters, with a sharpness of focus and a renewed sense of simplicity which is neither childish nor naive, but soulful. (As Oliver Wendell Holmes once wrote, "I would not give a fig for the simplicity this side of complexity, but I would give my life for the simplicity on the other side of complexity.")
But do we have to wait for a cataclysm to find the focus we need to implement Plan Be? Could we dare start to live more fully now – whatever our circumstances – as if our life really matters?
Of course, it's easier said than done. Even as you read this, you may be distracted by thoughts which pull you back into the past or forward into the future. But perhaps you could try to be intentional, to make the most of this one day, as a trial:
Taste your food and drink;
savour the mundane (after all, your own ordinary day may seem like the greatest gift to someone who's just received bad news, or for whom life will never be the same again);
listen to the person who's trying to talk to you;
enjoy your work;
walk a little more slowly to your next appointment;
smile at a stranger;
encourage or help someone;
risk something;
give something away;
be creative;
pray;
breathe the air;
Love.
Whatever matters most, make some space for it.
And if we need further inspiration, personally I love how the episcopal priest and author Cynthia Bourgeault describes – within one pithy and powerful phrase – the way Jesus lived:
"Nothing held back, nothing held onto."
You might even like to write that phrase down on a few post-its, and stick them somewhere you will find them later – in the bathroom cabinet, on your lap-top, on your car dash-board. Stick them there as a reminder to work on your own version of Plan Be, just for a day. The lovely thing about Plan Be is that we won't know what it looks really until we try it. There is no substitute for experience when it comes to life.
Amy died in April, just weeks after writing her article. She had a small tattoo done, towards the end – of the first word she ever spoke as a child, and the word that seems to sum up her intention to live well. The word she chose was "More." Surely it didn't, for her, mean quantity – she didn't have that luxury – but quality. For there must be more to life, in the here and now, mustn't there? Thank you, Amy Krouse Rosenthal, for reminding us that these are the days.
Visit Who is Amy for details of all Amy's creative output, including books, short films and projects. And go to The New York Times website to read You May Wish to Marry My Husband.
---
We're big fan's of Brian and his writing, here at Nomad Podcast. Our interview with him was one of our favourites (and most downloaded) of 2016.
Brian also produced a cracking Lent reflection, for us about the transforming power of stillness.

In his latest book Soulfulness Brian takes the current cultural fascination with mindfulness, and deepens and broadens it out to a whole life lived soulfully. For anyone – like me – who often feels like they're just skimming across the surface of life, it's a must read. What Matters Most, Less is More, and Spiritual Intelligence are all also well worth your time. Brian also produces excellent email devotions, and regularly runs retreats and workshops, all of which can be found at his website. – Tim