When I was 22, I had almost everything completely figured out … about God, Jesus, the Holy Spirit, the Bible, theology. Strange … by 30, I knew a little less, and the certainty/mystery ratio has only shrunk for me each decade since.
But one thing has become more and more clear and sure for me, even as other things have become more and more mysterious: love is what matters most.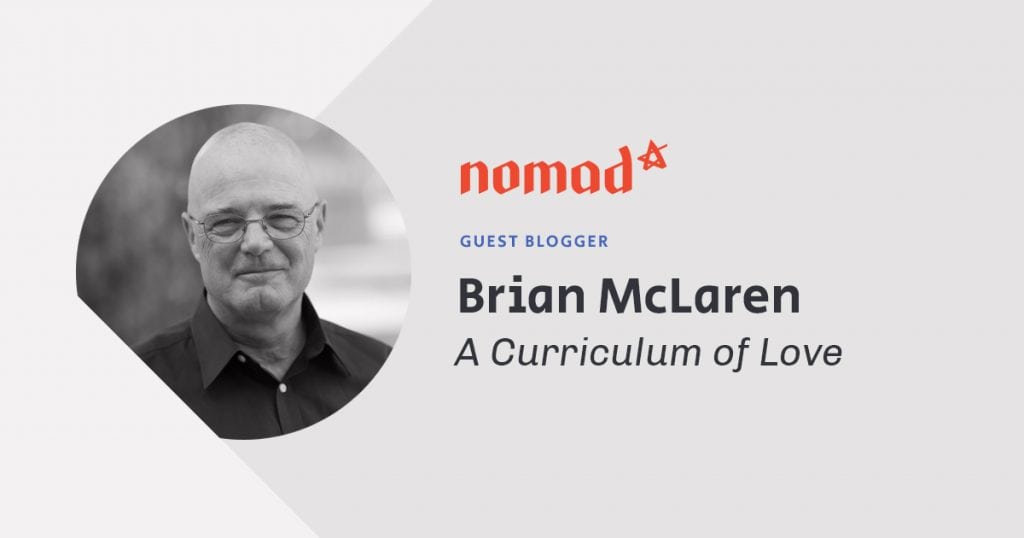 Image by Hannah Davis. Used with permission.
The New Testament couldn't be much clearer on this, although we are amazingly clever in our adventures in missing the point:
Love is the greatest commandment (Mt. 22:36-40)
Love is the greatest thing. (1 Cor. 13:1-3)
Without love, nothing matters. (Gal. 5:6)
The fruit of the Spirit is love. (Gal. 5:22)
If love is so important, I have to ask myself why so many of us are so clueless about it. We've spent billions of dollars/pounds/euros and billions of hours preaching, studying, singing, and praying about so many things, but so little on actually becoming people who love well.
All this has me thinking:
What would it look like in our curricula for children and youth if we actually believed love mattered most?
How would our liturgies change if we believed love mattered most?
How would we interpret Scripture differently? How would we pray differently? How would we design our church buildings differently? How would we budget our funds differently … if we believed that what mattered most was helping people become as loving as possible?
A Christian friend told me recently that she just got a PhD in how to teach children compassion. What was really depressing to her was to discover she was the first person in history to conduct doctoral research on this topic.
You would think that a religion whose founder taught the primacy of love would have a longstanding and highly-developed heuristic (how learners learn) and pedagogy (how teachers teach) of love, compassion, and the like.
Well, here we are. If such a body of know-how doesn't already exist, it's up to us to get started.
Here are some preliminary notes on what a curriculum of love might look like, related to stages of schooling and rites of passage:
1. Infants and Toddlers: We would lay a foundation of helping children receive and experience love. We would create spaces where they experience kindness, delight, acceptance, and concern from adults beyond the circle of parents and close family members, so they experience love as a fact of life, not just a facet of family. We would help them associate the experience of love with the language of God.
2. Toddlers and Pre-school: We would help children learn practices and habits of love among family and friends: courtesy (please, thank you, excuse me), apology ("I'm sorry. Will you forgive me?"), self-reporting (I am angry. I am frustrated. I am excited.), request (Please help me. Please let me try it myself.), etc.
3. Primary School: As children are learning practical skills of maths, grammar, etc., we would teach them practical skills of love, starting, perhaps, with the fourteen characteristics of love found in 1 Corinthians 13 (patient, kind, does not envy, does not boast, not proud, does not dishonor, not self-seeking, not easily angered, keeps no record of wrongs, rejoices in good but not evil, protects, trusts, hopes, perseveres). This teaching would require experiential learning techniques, such as role play, action/reflection, etc.
4. Secondary School: The previous learnings would be reinforced, and then applied to expanding dimensions of life: loving self, loving family, loving friends, loving strangers, loving social outsiders and outcasts, loving enemies, loving earth, loving God.
5. Rite of Passage 1/Puberty: Shortly before puberty, special training would be included, focusing on love in relation to three dimensions of adulthood: sex, power, and money. How does a young adult experience sex in the framework of love? How does a young adult use power in the framework of love? How does a young adult manage money in the framework of love?
6. Rite of Passage 2/Spirituality: In the middle of secondary school, special training would focus on spiritual practices, helping students discern the experience of love for God in the context of other loves – for neighbor/stranger/other/enemy, self, and the earth.
7. Rite of Passage 3/Vocation: At the end of secondary school, special training would focus on the choice and practice of vocation as a facet of love.
8. Rite of Passage 4/Life Partnership: Special training would focus on the role of love in mate/life partner selection and marriage.
9. Rite of Passage 5/Parenthood: During the first pregnancy or adoption process, special training would focus on loving parenting.
10.Rite of Passage 6/Midlife Transition: Around the age of 40, a mid-life love assessment would focus on love as the work of mature adulthood, and preparing for elder/sage/mentor status.
11. Rite of Passage 7/Senior Living/Retirement: Around the age of 65-70, a late-in life love training would focus on the work of being an elder.
12. Rite of Passage 8/Death Preparation: At an appropriate time, special training would be presented to help people pass from this life with love for neighbors, self, the earth, and God.
Such a curriculum wouldn't be fool-proof, since human foolishness can subvert just about anything. But I'm guessing it would take us much farther than having no curriculum at all. I don't think you can wait for somebody else to create such a curriculum. But I do think that if all of us do what's ours to do, over the next five to fifty years, a pretty impressive "common sense for the common good" could evolve. And that would be a good thing.
Every time we pray, "May your will be done on earth as it is in heaven," we are praying for love to become our habit, our nature, our way of life. Every time we invite someone to become a follower of Jesus, we're inviting them to make love their habit, their nature, their way of life. Every time we break the bread and share the cup, we are inviting Christ to be resurrected in us, so that love becomes our habit, our nature our way of life. May it be so.
---

Brian has been a big influence in my life, right back to first reading A New Kind of Christian, where for the first time I breathed a sigh of relief as I realised I wasn't alone in my questions and concerns about the faith I inherited. I soon realised Brian had a knack of articulating what I was feeling but struggling to put into words. So I devoured A Generous Orthodoxy, Naked Spirituality, We Make the Road by Walking, and Why Did Jesus, Moses, the Buddha and Mohammed Cross the Road. It really feels like Brian's latest book The Great Spiritual Migration draws on all the themes of his previous books and brings them to their logical conclusion. It really is a must read for anyone wrestling with the faith and hoping there is something deeper and more expansive out there. – Tim