This is a conversation between the priest Karen Rooms and transgender poet, author and educator Jay Hulme about what it's like for them to be part of an ancient and LGBTQ+ affirming church.
As they recall the story of their developing friendship, their conversation guides us through the pandemic, Jay's early faith experiences and Karen's reflections on being a cisgender heterosexual woman entrusted with the care of a diverse and fully inclusive congregation. With humour, insight and creativity they offer a unique perspective on what it could mean to be church.
We have made this conversation public domain, so you are free to turn it into an episode on your own podcast. We ask that you don't edit the conversation, but please do feel free to add your own introduction and reflections. We also ask that you acknowledge Nomad Podcast.
Click on the download button to access the MP3 and WAV files, and guest images and bios.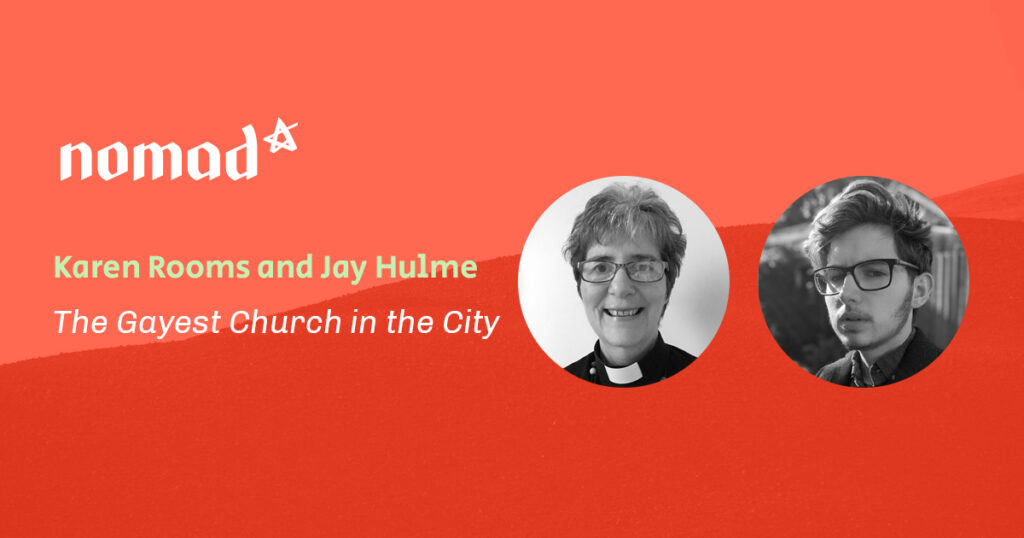 ---
QUOTES
"'Coming out' as a Christian is also part of our discipleship and part of our journey of owning what we really think. And coming out about not conforming, or changing what you think, or thinking differently to the teaching of the church – that's a constant re-evaluation in my experience of being on this way." – Karen Rooms
"What makes LGBT Christians feel safe in church? Flags and symbols is the thing that's at the top of the list." – Karen Rooms
"I have this whole thing about poetry being indefinable, and not the words, and the space around the words; poetry is the blank page, not the words on it…the words just lead you to the truth of the blank page." – Jay Hulme
"Liturgy is people doing their best to reach out to something beyond, which is just what a poem is in its own way." – Jay Hulme
Click on the subscribe button if you'd like to be added to a mailing list to be kept aware of future public domain podcasts.