I've come across so many people who have a similar life story to me – growing up in a loving, conservative Christian home, attending church every Sunday, Brethren in my case, doing all the right things, learning all the Bible stories in Sunday school, baptised at 13. I think I had a genuine and meaningful experience of God in my teens but my earliest memories of why I came to faith were out of fear – fear of being "left behind" (anyone else freaked out by that movie from the 70s?), fear of going to hell, fear of disappointing my family. It's no wonder so many leave a fear based and shame based faith behind as they move into adulthood.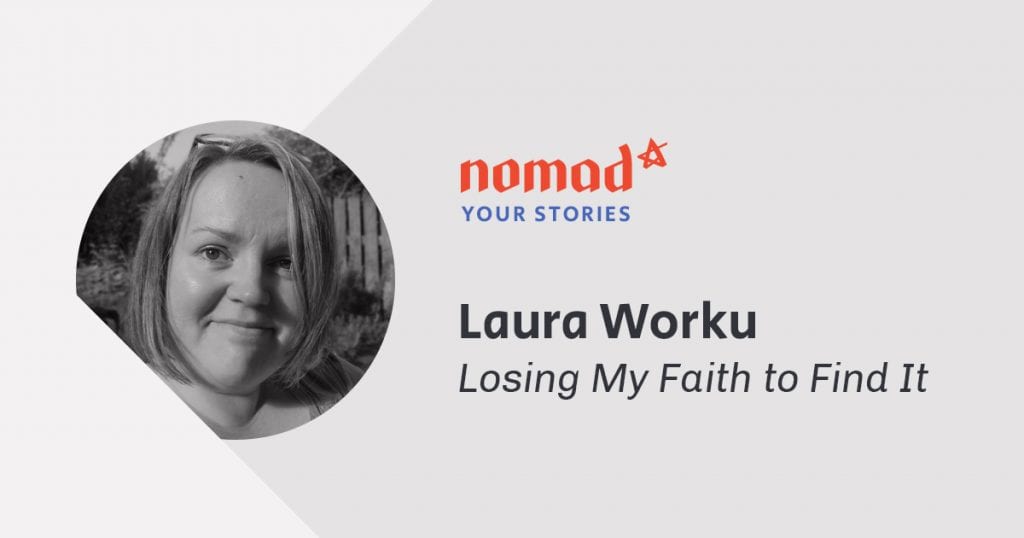 I escaped the constraints of home life for university and promptly settled in an equally conservative church, where women were still not allowed to preach or lead, although with a lively youth and student ministry. There I encountered the joys of young earth creationism, and dispensationalism, as well as traditional views on the roles of men and women, while for the first time wrestling with the underpinnings of my faith in lectures on the philosophy of science and evolutionary biology. The first of many questions started to bubble up – what kind of God would make a world that looked old? Was he trying to make things difficult for us? Why do my friends experience spiritual gifts at the church down the road but my church teaches that these gifts died out when the canon of Scripture was completed? Who's not telling the truth here?
Something else I inherited was the "evangelical hero complex" probably with a hefty dose of colonialism mixed in. Through my years at university, giving your life to God and going overseas as a missionary was held up as the pinnacle of what we should aspire to. It was drip fed through numerous mission conferences, countless students going overseas for summer mission trips and reporting back on amazing experiences, and the golden few, sacrificing it all to go off on long term cross cultural missions. In my desire to do something meaningful with my life, it's no surprise that I followed suit, spending two years on board the OM ship the Doulos.
Those two years were wonderful in so many ways, experiencing Christian community with people from all over the world, visiting many cultures, welcoming thousands of people on board. But at the same time there is now a sense of unease at the underlying cultural narratives, the cringeworthy street evangelism, and whether the experience was about genuine service, or a bunch of people fresh out of school or uni "finding themselves". I'm still analysing this! Meeting my husband who hailed from Ethiopia was an unexpected bonus!
Fast forwarding on, via a brief stint in the home office of an even more conservative evangelical mission agency, finally reaching the end of my tether with full-time missions, a move to Scotland, settling into a new church, the arrival of children. I'm not sure what really kicked off the process of deconstruction, but it was more like the bubbling up of a general dissatisfaction with church – why was I there every Sunday? What was the point? Why did so many amazing people not see any need for a faith? Why weren't my questions welcome?
What changed was my church taking on its first pastor. A pastor who welcomed questions, and actually genuinely believed in equality for men and women, and took time to engage with me on the questions I had. Having permission to ask questions for the first time, and knowing someone who had asked them all before opened the flood gates. I had been on the brink of leaving church, of just giving up on faith – too many disappointments, too many inconsistencies, too irrelevant to my life. The cognitive dissonance had become too much.
When I have questions, I always turn to books. I remember three books which really kicked off the deconstruction and reconstruction of my faith – "Pagan Christianity: Exploring the Roots of Our Church Practices" by Frank Viola, "A New Kind of Christianity: Ten Questions That are Transforming the Faith" by Brian McLaren, and "Evolving in Monkey Town" which introduced me to Rachel Held-Evans whose story and questions were so familiar to me. There have been so many books since, and blogs, podcasts, videos, sermons, discussions over coffee and wine, which have given me a reason to stay in my own tradition, to look back into its history and rediscover practices and theology so relevant today, to understand the Bible is so much more than an instruction manual, that God is so much bigger than I could imagine.
The last decade or so has been a process of shedding evangelical baggage, stepping outside the tent of my inherited faith and finding so much beauty out there. My faith is much more integrated into my whole life now, my politics, my work. It's an ongoing process and I'm so thankful to be part of the Nomad community and to find fellow travellers. Parenting two girls has strengthened my commitment to feminism, and has given me the challenge of trying to articulate what it is I believe about Jesus, the Bible and what I think matters most in life. Trying to pass on a faith without passing on the fear and shame which I inherited. Trying to pass on love and acceptance of all, affirming all regardless of sexuality, gender, race, faith. Trying to pass on a love and care of the earth and how that connects deeply to our faith.
I couldn't finish without paying tribute to Rachel Held Evans. She felt like a friend on the journey. Her blog, especially a few years ago, helped me to wrestle with some really big issues by sharing different views on topics such as hell, and same sex marriage. She handled these debates with grace and openness. She was a force to be reckoned with on Twitter and was fearless in calling out oppression and injustice where she saw it. I think if we can all be a bit more like Rachel we will be on the right path.
Laura Worku