Talk of freedom (or what we will refer to as liberation) can send shivers down the spines of different people for a whole array of reasons. For some, the suspicion of freedom is really rooted in a suspicion of human nature, and often the human nature of other people. We might be pleased for certain people to be free, but not allkinds of people – particularly the ones who make us nervous.
The language of liberation suggests a rejection of what has been, in order to pursue a new kind of being. This invitation to the new can send alarm bells ringing, especially in the realm of faith. Faith is so often tied to a reverence for what has been passed down to us from those who have gone before. However, this reverence should not be uncritical in the light of the fact that many destructive and oppressive beliefs and practices have been passed down alongside the profoundly helpful and enriching ones. It can often be those people of faith who are most certain of their freedom who most need this liberation of Christ – this was I think, the point Jesus was trying to make in his interactions with the Pharisees.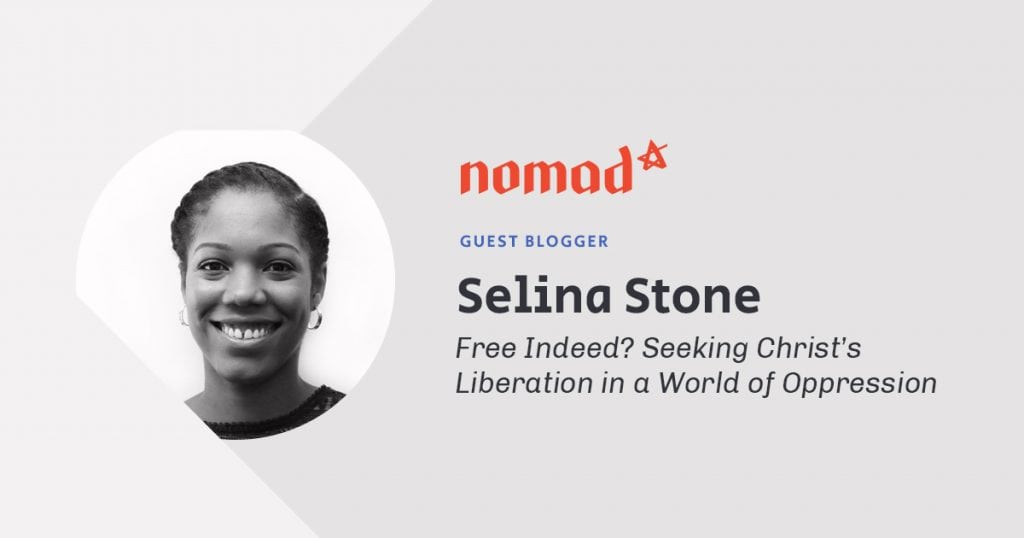 Image provided by Selina Stone. Used with permission.
Liberation is never an individual experience – it occurs through the work of God, in the context of community whether authors, family or friends. It is inevitably social and political – it involves and affects the lives of other people and the ordered life of a community.
Of course, the language of freedom and liberation features throughout the scriptures. Liberation is the work of the God of Moses, the One who gives wisdom to Esther, who rescues David from his enemies. Freedom is seen most clearly in Christ who declares his mission to be to set the oppressed free and liberate the captives. Bear in mind that the oppressed and the captives are not society's favourites or the ones we tend to feel sorry for immediately. They are the ones we as a society have accepted (whether through action or inaction), should indeed be oppressed or in captivity. For those who count the cost of this Gospel and become followers of Jesus, the question remains: how do we follow Christ the liberator?
If we really want to understand what liberation might look like, we have to identify what it is about our current way of being that shows signs of oppression. By oppression, I mean to describe all realities that hamper the flourishing of human beings. This is not a flourishing that is focused on individual gain and notions of personal material success, but living according to the fullness of what it means to be human within community. This involves a life of spiritual, emotional and mental wellbeing as well as loving relationships with others. It might also include creativity, self-expression, involvement in meaningful work and time for leisure. We can clearly see that there are many forms of oppression that prevent this way of being for many people. Powers and structures beyond the control of the individuals or even groups of individuals, make a good life impossible for many. It is evident that sexual violence, racism and discrimination restrict and can completely undermine the capacity of people and communities to enjoy freedom of life, joy and creativity. The neglect of the elderly and disabled and the exclusion of refugees and others in crisis, generates isolation and despair. We know that our earth suffers under the weight of industrialisation and globalised capitalism, often impacting the poorest among us. In addition to these categories, we would also do well to consider the ways in which faith and spirituality are used as tools to manipulate and control the disadvantaged. There are many more issues we could list where there is a need for freedom for the oppressed.
It is into this world full of these brutal realities that we believe Christ came as the liberator; taking up the cause of the oppressed, not only through his words and actions but also through his own poverty. The way Christ liberates is as crucial as the liberation itself. He does not stand aloof, organising others or taking a position of power in order to make change – he allows himself to be clothed in what he seeks to transform.
Now of course, there is nothing wrong with taking on positions of power to do good in the world, but the model of Christ highlights the need for proximity. The further away your position, the further you have travel to be close and in touch with the people you seek to serve. Christ leaves glory to appear in the skin and bones of a poor Jewish man rather than as a global conqueror. He resists the seduction of earthly loves and worldly power. He proves that his kingship and his kingdom are distinct and unlike any that have ever been seen before. This king does not see equality with God as something to grasp on to, but takes the form a servant being obedient even to death. His kingdom is not a place where the wealthy, super-confident, good looking people get promoted, in fact they get sent to the back…it's the forgotten overlooked ones who catch his attention.
Following this Jesus demands a whole new way of thinking and being – it is totally incompatible with the priorities and loves that most of us are surrounded by and often conform to. If God has chosen to be on the side of the poor, the oppressed and the captive then he is shifting the place of privilege. Those who have benefited from the poverty and oppression of others will find themselves in an unexpected position of loss.
The coming of the kingdom means a consistent challenge to the status quo, and signifies its eventual demise. The overarching emphasis of God being on the side of the oppressed is the foundation of a message of liberation that is rooted in Christ's ministry to 'the least of these'.
---
Selina Stone is Tutor and Lecturer in Political Theology at St Mellitus College. She is a part time PhD student at the University of Birmingham researching links between discipleship, citizenship and social justice. Before joining the SMC team Selina worked for four years as a community organiser at the Centre for Theology and Community in East London.