We recently celebrated the 500th anniversary of the Reformation.  This was an invitation to reflect, and while there is much good fruit, one unmistakable post-Reformation reality is that there are now an estimated 47,000 protestant denominations.  It seems we've become very good at taking our toys and building a new sandbox when confronted with theological difference.  In light of Jesus' prayer in John 17 seeking the unity of the church and connecting unity with our public witness, there is much to lament in our divisiveness and drive for uniformity.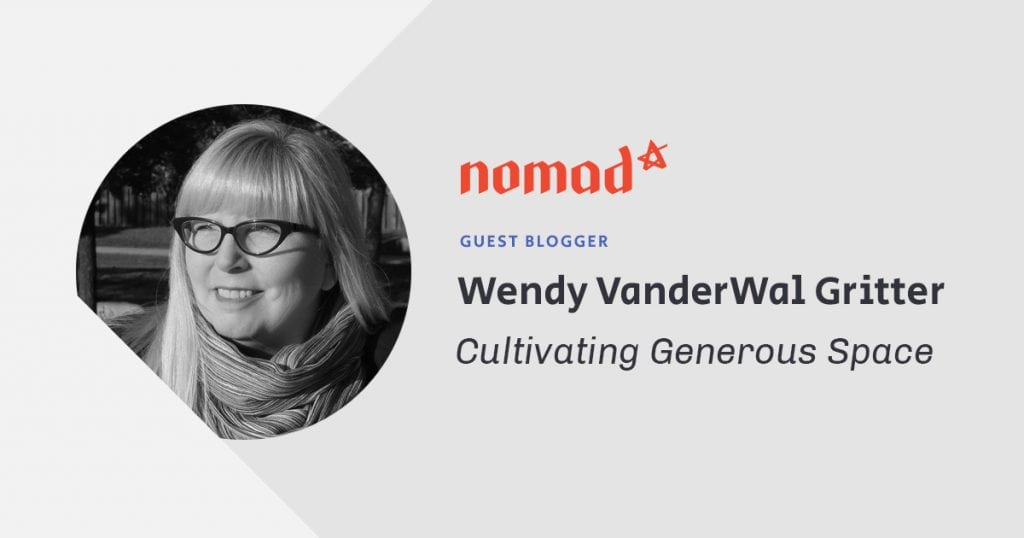 Image provided by Wendy VanderWal-Gritter. Used with permission.
Generous Space is a posture that emerged from a desire to resist the demand for and spirit of control used to judge and exclude theological difference.  In our particular ministry context, this was catalyzed by the recognition that it was not only straight, cisgender Christians who were coming to different interpretive conclusions on the matter of same-sex marriage, but that LGBTQ+ Christians were too.  And not only were these LGBTQ+ Christians disagreeing, they were often doing the hard work of staying in relationship across difference.  Listening deeply to how the other was seeking to be faithful was cultivating spiritual maturity.  One has to grow up into the fruit of the Spirit in order to honestly and genuinely invest in deep and loving relationship with the one who is discerning their Christian journey very differently than you do.
Over the last seven years, this posture of Generous Space has been embodied in fellowship groups across Canada bringing together LGBTQ+ Christians and allies with many different beliefs and perspectives.  Along the way, we have learned a great deal about how to cultivate generous space and have celebrated the good fruit we see emerging from this way of being the Body of Christ together.
Generous Space is energized by a centered set rather than a bounded set.  This means we don't have a whole set of statements or policies that define who is "in" and who is "out." Rather our centered set is made up of four core values and two commitments that we return to again and again to shape our way of being together.
The first core value is humility.  It is animated by the question, "Might I be wrong?"  We recognize that the higher purpose of humility is often lived out as we manage the tension between our deep convictions and our openness to hear the convictions of others, to be teachable, and to seek understanding.
The second core value is hospitality.  It is animated by the question, "Whose voices are missing?"  We recognize that the higher purpose of hospitality is often lived out as we manage the tension between experiencing a deep sense of belonging and believing that we are impoverished if we have excluded anyone simply because they are different than we are.
The third core value is mutuality. It is animated by the question, "Is everyone in our community empowered to make a difference?"  We recognize that the higher purpose of mutuality is often lived out as we manage the tension between resisting unjust power dynamics and relinquishing our own drive to dominate.
The fourth core value is justice.  It is animated by the question, "How can we dismantle the barriers that are preventing flourishing?" We recognized that the higher purpose of justice is often lived out as we manage the tension between owning our need and sharing our resources, and between the priestly role of caring for one another and the prophetic role of calling out inequity.
When people want to participate in generous space community, we want them to be aware of two key commitments.  The first asks, "Will you commit to listen deeply to the other, resisting the urge to convince others to think and believe just like you do?"  This commitment is an expression of our dialogical posture.  We seek understanding of the other, not to argue, persuade, fix, or advise the other.
The second commitment asks, "Will you do your best to do no harm in the community?"  This commitment has a second part, and that is when harm is inevitably experienced, participation in working towards restoration is expected. This is an expression of our non-violent posture.  We seek to grow in our attunement of the other through compassion and curiosity.
With these values and commitments energizing our Christ-centered community, we see difference, not as a problem to fix, but as an opportunity to grow.  Our differences are central to our spiritual formation.  And our spiritual practices, especially celebration of an open table for communion, enact our deep embrace of the other.
Our community is learning more about intersectionality and the ways that multiple marginal identities impact our siblings in Christ.  We embrace the incarnation as motivation to learn to use and relinquish our privilege in a way that works for justice.
Key paradigmatic shifts helped create the theological space necessary to live into our core values and commitments.  First, we reinforce that we are all reconciled to God through the completed work of Jesus Christ.  Clarifying that this was not a salvation matter but a sanctification matter opened generous space.  Second, we emphasized that questions about sexuality and gender are interpretive matters not questions of scriptural authority.  We recognize that people deeply committed to uphold the authority of scripture emphasize different interpretive priorities and can, therefore, arrive at different conclusions.  And thirdly, in generous space we invest consistently in our experience of unity while resisting the comfort of uniformity.
Some may argue that Generous Space is simply moral relativism packaged as Christian community. However, we are discovering that the hard work of laying down our lives for each other, across difference, is a fertile environment in which to "continue to work out your salvation with fear and trembling, for it is God who works in you to will and to act in order to fulfill his good purpose." We are grateful to experience God's presence with us, leading and teaching us.
---

If you want to dig deeper into the issues Wendy raises in this article, then have a look at her excellent book Generosity Spaciousness, the Generous Space Ministries website, and our 2015 conversation with her: