What are cookies and why do we use them?
Like many other websites, Nomad uses cookies. Cookies are text files which often include a unique identifier that are stored on your device. They contain information about the use of your computer but they don't include personal information about you.
Cookies, among other things, let you efficiently navigate between pages, they remember your preferences and generally improve your experience. Cookies also allow us to see how many people visit our website and why.
You can find more information about cookies at the Information Commissioner's Office website, AboutCookies.org, and AllAboutCookies.org.
What kinds of cookies do we use on our website?
Our website uses the following types of cookies:
System cookies.
We use these cookies to make our website usable by enabling basic functions like page navigation and access to secure areas of the website.

Analytics cookies.
We use these cookies to help us understand how you use our website by anonymously collecting and reporting information.
How can you manage these cookies?
On the Nomad website
When you first visit our website (or when you visit after you've cleared your browsing history), you are prompted to set your cookie consent preferences.

Using your browser controls
Web browsers are generally set to accept cookies by default. But if you prefer, you can usually choose to remove or reject browser cookies. For more information on how to delete and manage cookies on popular browsers follow these links:

Google Chrome

Microsoft Edge

Mozilla Firefox

Microsoft Internet Explorer

Opera

Apple Safari

For the best experience on the Nomad website, we suggest you leave cookies turned on.
Which cookies do we use and why?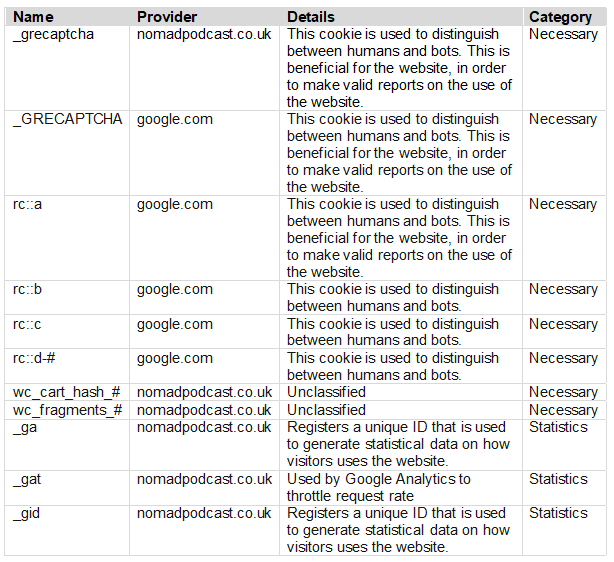 Updated: November 2021