We can get quite far through a story thinking one thing, to then find out something significant which reinterprets and makes sense of everything that has gone before.
I came to an evangelical expression of faith in 1986 aged 13. Full of zeal, I'd avidly read scripture daily, pray, and be prepared to use Scripture with force in discussion with anyone who needed a dose of Biblical literalism.
In 1992 I began an honours degree in theology, leaving after the first year due to crippling depression and suicidal ideation. I count that year in an evangelical college as the most soul crushing time of my life.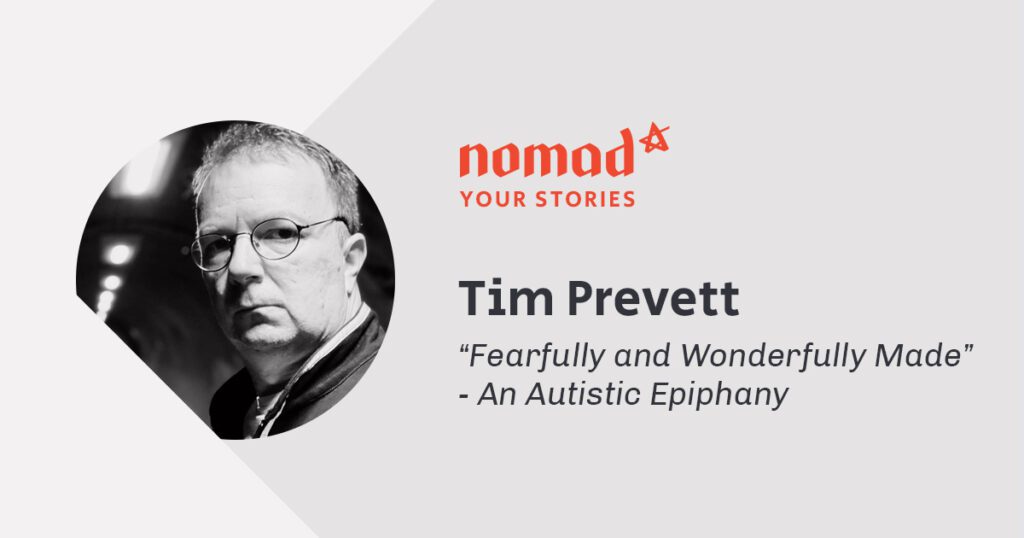 In 1996 I picked up my degree in theology. I did really well in some areas. Wanting to be relevant with my faith, and plumb an interest in others' belief in extra-terrestrial life and associated phenomena, with The X-Files at peak interest, and as the year 2000 approached, I wrote my final dissertation concerning a spectrum of Christian faith responses.
During a placement to a large Pentecostal church, I'd happily talk about that dissertation. Most Christian faith responses to the possibility of extra-terrestrial life feel threatened by it. Phenomena are because of demons. They've become technologically savvy to lead people away from Jesus. Maybe demons are creating a hybrid race with humans – like the Nephilim before Noah's Flood (in their thinking). Other Christians take a social science, or astronomically informed response to these phenomena and ruminations.
It ought not have been a surprise then that my report from the placement had the phrase "I am very concerned with Tim's interest in Aliens". My supervisor for the thesis tried to throw me off that line of study, but I appealed and went on to get different supervisors. I received a top mark for the dissertation, some speaking invites, and an afternoon phone-in discussion on UK Christian radio.
I find it hard to deliberately alienate people from me. During that placement I gave the sermon one Sunday morning. I preached on the letter to Philemon and encouragement. The minister picked me up on "not being challenging enough" – that is, not making people feel bad about the sin in their lives and where they needed to repent.
During that final year of college, there had been a marked shift in worship and theology. The services became noisier. "Name it and claim it", "believe it and receive it" prosperity doctrine became much more central. And I found myself slipping out of services most weeks, soon after they began, feeling estranged.
While a farcical and unsuccessful interview for ministry left me distressed, I'd begun to appreciate a more mellow expression of faith, finding strong resonance in the Celtic Christian approach. After the degree I went to an Anglican Church, having had placements there, and applied for ministry.
To prepare for my possible acceptance for ministerial training, I had an interview at another college. When asked what my gifts were, I floored the gentle older faculty member, when I replied "I don't have any".
September 1999 I attended a selection conference. It felt very intense, spending a lot of time with others, having to be on my very best behaviour, unless alone. A range of interviews, some feeling adversarial. Psychometric tests left me strangely distressed. Mealtimes in which I was the only one who dined with my fork not being upside down. When the debrief came in via the bishop, it gave a tsunami of self loathing, a feeling of rejection on an ontological level that washed away any perceived sense of vocation. "What a fraud". I couldn't go to church and ceased expression of faith for about six years.
Eventually I came to a place of being prepared to go to church again. Eventually applying for non-stipendiary ministry, I went before a selection panel. I remember my long awkward silences. A sense of fraud overwhelmed me, that if I were to push my conviction of a ministerial vocation, that it would constitute manipulation. At that point, I had over 10 years of placements, a practice-based degree and completed the Foundations for Ministry Course. Again unsuccessful, any expression of faith imploded. The church couldn't accommodate me anywhere. Anything and everything was not good enough.
In terms of faith, since then, I've stumbled like, well, a Nomad, in the post-Christendom wilderness, with some resonance to the Person and Teachings of Jesus, looking for signs of hope, but incredibly wary of getting involved following further trauma and trolling in what I'd believed to be a safe online space for Christians who had a hunger for a different approach.
In that time, the blessing of having three autistic children eventually pointed the finger to me considering, and then knowing, that I am also autistic.
I've had struggles with relationships and employment, all consistent with the not-so-good aspects of being autistic. After nearly four years on a waiting list for assessment, it came in February 2022. With a six hour session and nearly two hours for my mother about my early years, I received a diagnosis of Autistic Spectrum Condition (not Disorder, not Asperger's, not High-Functioning). I don't have autism, I am autistic. It defines everything I am. It is a completely different operating system.
What is Autism? The medical literature describes it as difficulties with social communication, social interaction and social imagination. What does that actually mean?
Autism seems to be popularly (mis)understood as being about deficits. It's actually more about difference. It might be a deficit, or it might be a surplus, on a wide range of sensory, social and communication factors, with strengths, and also challenges. Autism accounts for my strengths (I am aware of them, now, thankfully), and challenges.
I can have a sense of being a fraud, never good enough, not deserving of things – which leads to self-sabotage. A hint or possibility of being rejected (relationships, work, social situations) gives a tsunami of self loathing and desire to be alone. How much more so when it actually happens. All these inform my struggles with faith and vocation.
A common incorrect assumption about autistics is that we have no or little empathy. When you get to know most autistics, the fader-volume for empathy is actually turned up louder than most people. The best way to deal with too loud an input is to turn down the master output and act as if there isn't an issue. But something will give at some point, somewhere.
I am very empathetic. As a result, I give customer service second-to-none in employment. I've taken some family funerals which have been appreciated for their sensitivity and consideration.
I am very good at organising and presenting information and content. I've won awards as a tour guide. I've done well in my degrees (honours in Theology, masters in TV Documentary Production). I've written a book. I've done local community radio which was well received.
I am only just scratching the surface here about faith and autism. We are not "all a bit autistic". If you think someone "doesn't look autistic", well, what might you expect an autistic person to look like? No two are exactly the same.
We might have sung the line in church, "I'd just like to thank you for making me ME". Lady Gaga brings that to a much wider application,
"Whether life's disabilities left you outcast, bullied, or teased
Rejoice and love yourself today
'Cause, baby, you were born this way"
Scripture points us to each of us being shaped from birth
"I praise you because I am fearfully and wonderfully made; your works are wonderful, I know that full well." (New International Version) Psalm 139:14
Finally, a helpful quote from a politician advocating for better prospects for Autistics,
"Autism isn't a disease, shouldn't be seen as a problem, in many cases it's a gift; the human brain in it's different permutations is an extraordinary thing, and people with autism have so much to offer."
Robert Buckland MP, BBC News Podcast 9th December 2021.
– Tim Prevett