This is a conversation about the experience of death. Jim Robinson lost both his parents at quite a young age, and Liz Pattison recently lost her partner. They share their experiences of grief and loss, how friends, family and church responded, and how their faith has evolved through these experiences.
It's an honest, real, insightful, moving and hopeful conversation.
We have made this conversation public domain, so you are free to turn it into an episode on your own podcast. We ask that you don't edit the conversation, but please do feel free to add your own introduction and reflections. We also ask that you acknowledge Nomad Podcast.
Click on the download button to access the MP3 and WAV files, and guest images and bios.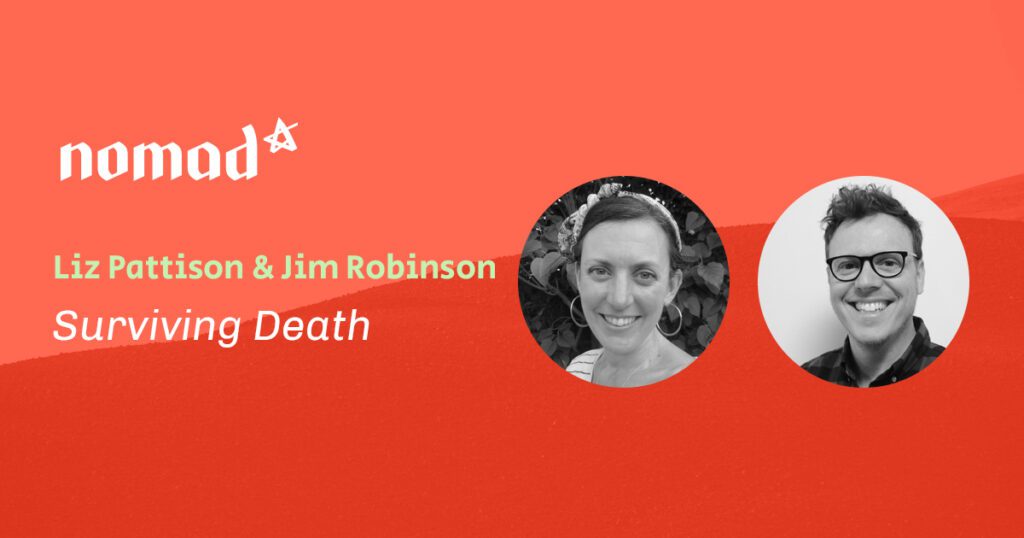 ---
QUOTES
"With the kids, what I want for them is for them to have genuine connection with people – with me, with other adults who love them – so that they actually feel like they can talk about how they're feeling. And if they're not allowed to talk about the loss of their dad – not allowed to talk about death – then that basically shuts down a whole part of them, and then you can't connect with them."
"Generally, with people that are grieving, the worst thing is to assume you know what the other person feels."
"One of the impacts of my own experience…is to really feel that life includes death, and death is part of life, and remembering people, and knowing that they've been here, and they've lived life is part of what we all experience. And for me, I'm trying to not fear that and to not see that as a negative thing: it is how it is."
"People sometimes say beautiful, powerful things about people when they've died. But if you have the opportunity to say it to them when they're still here, why would you not?"
Click on the subscribe button if you'd like to be added to a mailing list to be kept aware of future public domain podcasts.