The garbled prayer call was barely recognizable in the din of the midweek market crowd. Four years earlier, I would have stopped and marveled at the droning of the "Allahu Akbar," but now it was just background noise. I pushed an umbrella stroller in front of me, my son lulled to sleep by the motion and white noise. I was happy to be out of the house. I savored the smell of grilled onions and peppers. I watched a young covered woman guide her young child through the maze of people. Our lives were more similar than not. I smiled widely at the colorful stalls of fresh vegetables. I may have stared too long in the direction of one vendor. "Buyurun, efendim," he called, "Come on in." Little did he know that, right there in that crowded back street of Istanbul, I was having an existential crisis.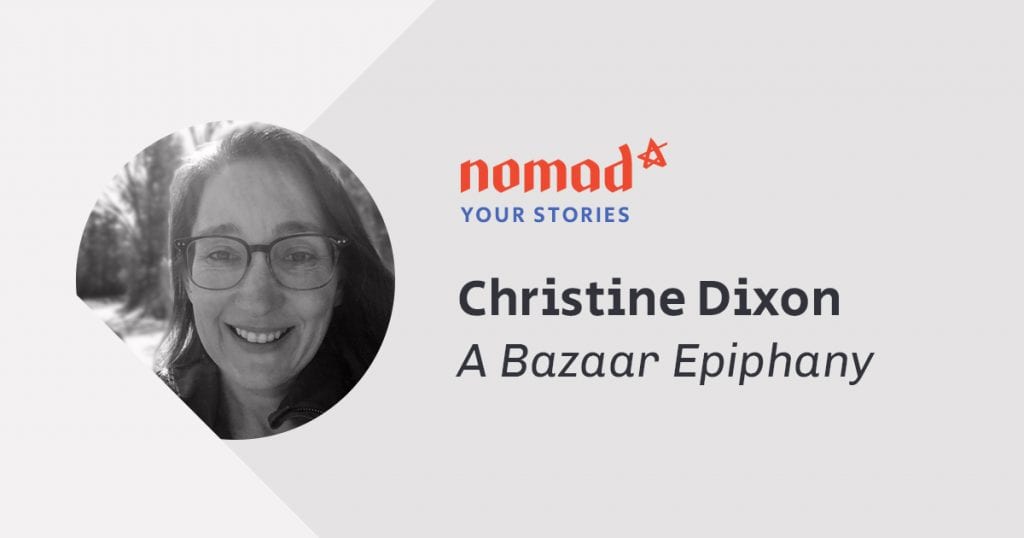 I had grown up in a loving but very religious home, the daughter of a Baptist pastor. I learned that to thrive, I must follow all the rules and please those in authority. I read my Bible every morning, went on summer mission trips, earned straight A's in school, and developed an addiction to my parents' and teachers' approval. My external life was managed, but my self-esteem suffered, and I became so disconnected from my own internal compass that I could not smell danger right under my nose.
I moved straight from my dorm room at California Baptist College to the inner city of East Los Angeles, to "do the Lord's work." There I met my first husband, a young man who came from parents who were in street gangs, his father in prison for murder. My new boyfriend had struggled with drug addiction and had been arrested for violence just a year before, but Jesus had "saved" him since then, so who was I to doubt the Lord's transformative power? 
A year into our marriage, we applied to be missionaries. We arrived in Turkey in March of 2002, bright eyed and full of dreams. We ran a small artist's studio in the center of town and regularly socialized late into the night. There were signs of aggression here and there, but as long as I lived to serve my husband, all went smoothly.  Then I got pregnant.
I was extremely ill all through my first pregnancy. Suddenly, I could no longer use all my energy to care for my husband. I needed to care for myself and my growing baby. My husband resented this change and dealt with his disappointment through violence, frequently describing how he would torture and kill me.
About the same time, someone gave me a copy of Brian McLaren's "A New Kind of Christian." I reveled in the character's ability to question how things had "always been." When the leaders of our missionary organization found out, they forbid me to read the book. This was the beginning of a long list of things they caboshed – including attending the Turkish church. The only church they recognized as legitimate was the southern Baptist church (founded by American missionaries). When I gained the courage to reach out about the abuse in my marriage, I was told to have "grace" on my husband and to "be a Godly example."
After three years in Turkey, our missionary organization asked us to resign based on "insubordination." We decided to stay in Turkey but had to move to a poorer area of town. We lived on the fifth floor with no elevator. By this time, our first child was two and I was pregnant with our second. Life was difficult, but no longer being a "professional Christian" was freeing. I could think for myself.
That day in the midweek bazaar, I looked around and thought, "These people are doing their best, caring for their families, just like me. Yet, if what I believe about God is true, 99.9% of these people are doomed to eternal conscious torment!" This made me sad. I thought, "Eternal torture for one lifetime of ignorance does not seem just at all. I certainly would not condemn them. How could I be more gracious than God?" In that moment, I decided that either I could continue believing in this monster of a God and NOT worship him, or I could change my belief about God.  I decided to believe in a good God. This did not please my Christian tribe.
Soon after that day, my husband nearly suffocated me, and I arranged with my parents to fly home to California. My husband followed. I had no other means of supporting myself, and I had been taught that divorce was never an option. The next several years were a nightmare, a hell on earth. I lost faith in God – at least the one I had inherited.
This, however, freed me up to try on beliefs and practices I never would have allowed myself before. I began practicing mindfulness and self-compassion. I experimented with believing that I was innately lovable, and the fruit was so good, I never looked back. Previously, I decided to believe God was good. Now I was experiencing God as good. I began to grow in stability, health, and clarity, until one day I saw clearly that I needed to care for myself and my children by leaving my marriage.
Without constant abuse, my healing grew exponentially. Unfortunately, my first husband fell deeper into the trance of self-loathing. One year after I left, he took his own life. I was thrown into deep grief, but by this time I had the tools to offer my pain compassionate witness
Eventually, as I grew in self-love, I connected with Brian, a man full of kindness who values both me and himself. We have been very happily married for eight years and enjoy our six kids and two grandkids. One of our favorite activities together is listening to and discussing Nomad episodes. I now work as a mindbody coach for women, helping them heal from trauma (often religious) and (re)connect to their own inner compass. My husband is my greatest supporter and ally. I am now in heaven on earth.
I used to try to argue with and convince my religious friends that God is good, and we are innately lovable, yet this fell on deaf ears. Now, I give my attention to those who are already questioning their conditioning. I let them know that they are not crazy, and that there is life on the other side of reconstruction. God is Love, and when we are still enough, we can see the sacred in everything ordinary. 
– Christine Dixon
For more from Christine, check out The Ordinary Sacred