We have a humanitarian disaster unfolding on our doorstep. Many of us feel frustrated at our government's half-hearted response, yet we feel overwhelmed and powerless to do anything ourselves.
In this episode we hear the story of Adel Hamad, a Syrian refugee who made the trip to the UK. We then hear from Naomi Jemmett, who works with refugee children who have made similar journeys. And finally we hear from musician and activist, David Benjamin Blower. David has written an album – Welcome the Stranger – that tells the heartbreaking stories of refugees and lifts the veil on the forces that lie behind the crisis.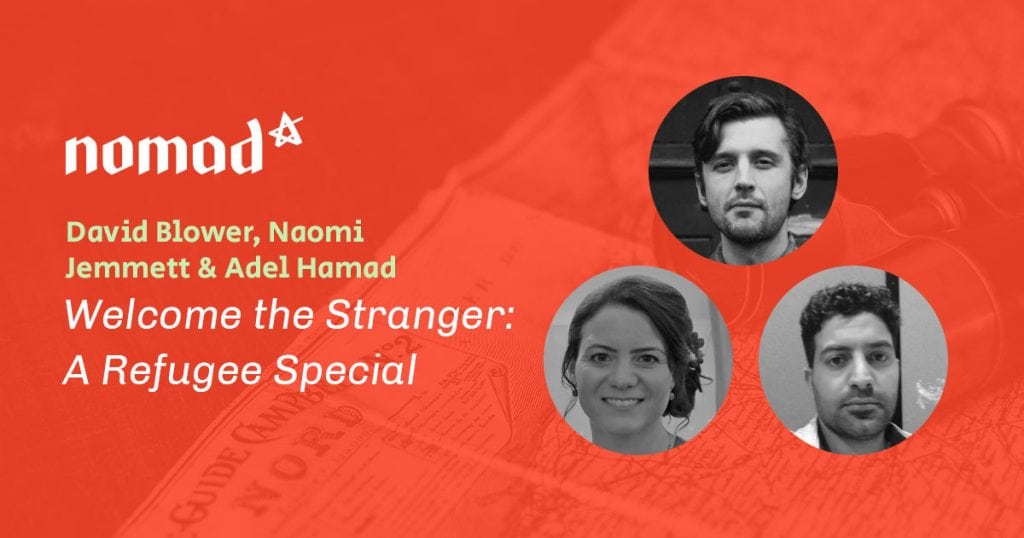 Image provided by David Blower, Naomi Jemmett & Adel Hamad. Used with permission.
Please consider buying David's album. You choose how much you want to pay for it, and 100% of the proceeds will go straight to a charity working with refugees in Northern France. You can buy Welcome the Stranger at Minor Artists or Bandcamp. Please also share it on social media.
You can also book David to come to your lounge, church, house-group, coffee shop or garden to play the album live and lead a discussion. Contact him through his website.
It would be great to think we can use Nomad's modest influence to raise some money for such a vital cause…