Robin Parry is an evangelical, but unlike many evangelicals he doesn't believe that Hell and death is the end of the story for the majority of humanity. Instead he believes the Bible teaches that we will all ultimately be reconciled to God and enjoy eternity with him. Tune in for a fascinating conversation.

Image provided by Robin Parry. Used with permission.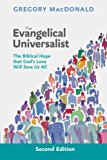 Still need more? Of course you do! Then have a read of Robin's excellent book The Evangelical Universalist and subscribe to his blog.