In this Devotional podcast, psychologist and theologian Richard Beck explores what it means to take sides without becoming hardened, and how he remains hopeful in a world on fire.
Nomad produces devotional podcasts like this one every month. To access them simply make a small monthly donation through Nomad's membership platform or Patreon.
We also produce group discussion questions to help you and your community dig deeper into the issues raised in the devotionals.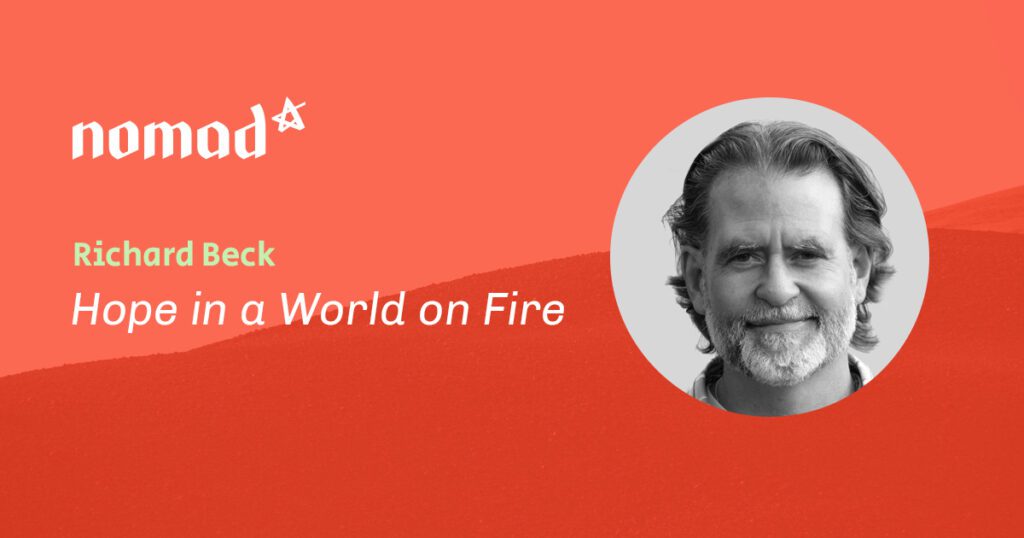 ---
SONG LYRICS
Sing o Hills
Sing o hills
Quietly goes it
Let the groans
Under the winds
Turn to chanting
Plain and long
Long and meandering
Do you feel it
Through the ground
Through your two knees
There is a sound
Beneath all hearing
Do you feel
The hidden heartbeat
Of the ground
As you lay down
Upon her earthen chest
Ready, she, to
Open the
Abyss for all the
Violence that
Amasses
Gaping wide to
Swallow up
The torrents that have
Hammered every
Woman
Gaping wide to
Take back all the
Beasts that
Tore the oil from her
Bosom
Gaping wide to
Take down into
Fire the armoured
Chariots of
Conquerors
Gaping wide to
Sing a new song
Up into the
Skies toward the
Leaves on the trees
And the old sea roars and everything in it
And the teeming world and all who live in it
And the waters clap their fierce ancient hands
Let the hills sing the song they have been keeping
And the waters clap their fierce ancient hands
Let the hills sing the song thats down there sleeping
Because it's coming
WEBSITE
BOOKS
Hunting Magic Eels: Recovering an Enchanted Faith in a Skeptical Age
Stranger God: Welcoming Jesus in Disguise
Unclean: Meditations on Purity, Hospitality, and Mortality
Reviving Old Scratch: Demons and the Devil for Doubters and the Disenchanted
QUOTES
"One thing I'd like to say about taking sides is it's inevitable. Life is a moral drama and we are constantly discerning the light in the darkness. And that's for the religious and the irreligious. Everybody steps into the day – looks at the news, looks at world events, looks at their own choices in life – and is asking themselves, 'What's the right thing to do here?'"
"Even though we make strong moral discernments about what is good and evil – what is right and what is wrong – our response to those choosing sides has to be a posture of love."
"Hope is a virtue that has to be formed; it's hard-earned. It's not just me waking up in the morning and trying to reach for a silver lining. It's not me engaged in some sort of wishful thinking. It flows out of character. So – hope has to be practiced."
"I think things like artistic expression help us. They help us expand the bandwidth. They help us see hopeful things: the flower growing through the crack of the concrete. That allows us to re-sacralize our experiences. So, we push against the disenchantment of the materialism through re-sacralizing our lives through different attentional processes."
DISCUSSION QUESTIONS