The tranquillity of the park where I sat in my favourite coffee shop with my two-year-old, did not reflect how I was feeling. As I gathered our things together, after a failed attempt for a moment of peace over my coffee, I heard it clearly. "Slow down." The words came from deep inside. They stopped me in my tracks. I didn't know then how life changing those words would become.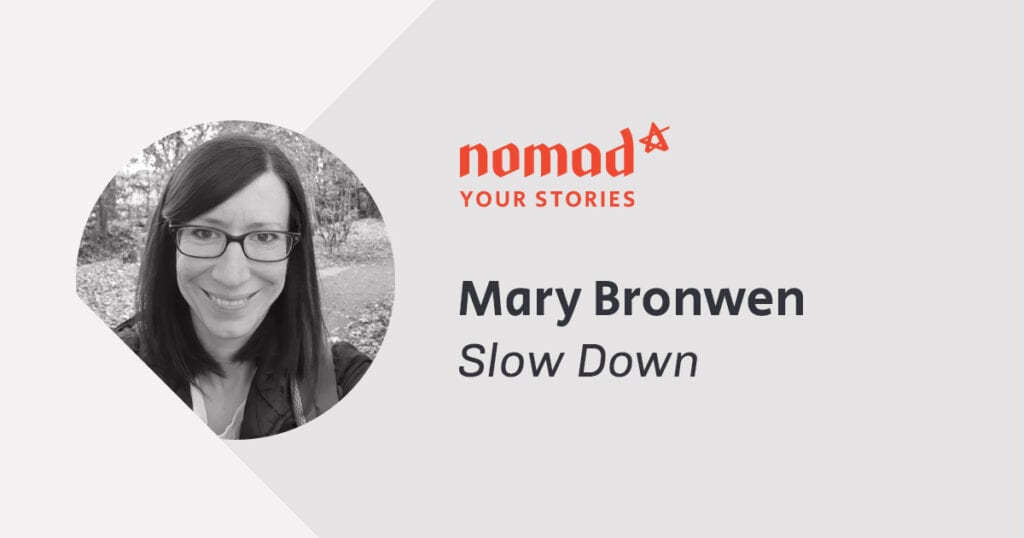 I was struggling in my career, exhausted with young children, and living on edge at home. I felt that if I could just try harder I would make it through and my hard work would begin to pay off.
I had grown up in an evangelical church setting. I remember being baptised when I was 12 and being more excited about the scriptures that would be written in my baptism card by the pastors, than by the submersion itself. I was hoping to hear something special, to feel some connection with this God I was being told loved me. I was disappointed that both the chosen bible verses were about being humble instead of proud. I grew up around a strong ethos of needing to be better for God.
My parents used to take my brother and sister and I to a family summer camp – a Christian week like Spring Harvest. I remember an experience I had there when I was 7 that deeply impacted me and has stayed with me. During one of the children's meetings, I think in a worship time, I felt an overwhelming sense of love being near me, like I was being held. And I cried deep tears. I knew at that point that there was something beyond me, that God was real. We returned year after year and I often revisited that sense of God at that camp. I cherished those experiences and as I grew older began to search for a tangible grasp of this God. I wanted to hear him, to live a life like those in the books I'd read, like Brother Andrew and Jackie Pullinger, in which there were miracles, in which God was actually involved. I pledged my life to this God and to live a life that would please him, and to have the kind of passion that seemed to be echoed in the youth events I loved so much.
Fast forward twenty years, juggling my work as a junior doctor, and being a mum of two, I was struggling. My career had slowed and the thoughts of being something useful in the world seemed out of reach. I had lost confidence and couldn't seem to find myself. My life certainly didn't feel like one that would make a difference to anyone in the way I'd hoped when I set out. I was trying to pull my life together, to be better, and when those words came to me in the coffee shop, slowing down seemed the exact opposite of what I was trying to do. And then it came, almost out of the blue, but really I just hadn't noticed it creeping up on me. The sharp reality that I was caught in an emotionally destructive relationship. Slowly its black ink was seeping over every part of me. The years I had invested, the love I'd tried to give, had led me down a dead end. I realised that if I didn't do something, I would be swallowed up in darkness forever.
Leaving was frightening. Knowing that escaping would be dismantling everything I was trying to build, to face divorce and attempt to bring up my children as a single mum.
I was afraid to let go of what I knew and had built my life upon. The ideas I'd once held with such certainty seemed irrelevant to my situation at this point. I had to face myself and the reality that God was not, in fact, ultimately in control. I had been emerging out of evangelical Christianity slowly, questioning it for a while, but had been trying to keep hold of the good I knew of it. However, at this point I desperately needed something solid and church and religion, definitely was not it. If I was going to come through this, I needed to take some control and find help.
As I embarked on my new circumstances, my mental health fell to pieces around me. I had always been strong, reliable, and now I was desperate. Desperate to form some sort of stability for my children that I was not able to find in myself.
I lost sight of how to get through. In the depths of darkness, I felt angry. Angry that the sacrifices I had made to live a life for God were not being met in the way I imagined. I felt grief. Amongst everything else, I was also grieving the loss of the model Christian life I'd so zealously promised God in my youth.
But it was there, in my powerless state, that I found Hope. She came to me. I began a journey in which my imagination played a key role. I held back initially, it felt erroneous when I had been taught to be wary of my imagination, that inherently I was sinful and shouldn't trust what came out of the deep places in me. But it's where I slowly began to feel life come back to me and warm me. In the middle of my loneliness I began to see her waiting for me as I came back to my empty house, the children at their Dad's house. She could ask me how my day was. She was always interested. There was always kindness and care.
I think that experience began to lead me out. It has been a long process of healing and courage and knock backs. It led me into possibility, into creative approaches to spiritual meaning, and ultimately to finding kindness.
In some ways it is like I've scrapped all that has gone before and started with a blank sheet. I am open to ideas about God, or whatever you call it, him, her. I love to see how others approach faith. I love to be able to listen to friends from other stand points, and take something from that conversation, free from having to hold an agenda to ultimately convert them.
But in some ways, it is like I have been released to return home, to that simple love that came to me as a child, in which I was held and accepted just as I am.
– Mary Bronwen